MOMENTS BEFORE DAWN
20th Century Fox wanted a campaign that launched the second apes film Dawn of the Planet of the Apes. Since the first film, the human population has been decimated by Simian Flu and war, and the ape population has evolved.
Our idea was to show the collapse of human civilisation and a reversal in the balance of power between apes and men by taking powerful icons from around the world and letting them crumble.
We also created eyewitness accounts of the downfall of humankind seeded on social channels and even a PSA about Simian Flu.
EYEWITNESS ACCOUNTS
Telling the human side of the story before the time of the film. Random fact: we did this with the cinematographer from Ice Road Truckers and aged the objects ourselves with tea and rust solution in a series of takes.
MOUNTAIN BIKE & DRONE VIRALS
I wish this part of the campaign had made it, but while they were scoping out Muir Woods for the shoot, the budget got pulled. Click below for the production company's storyboards.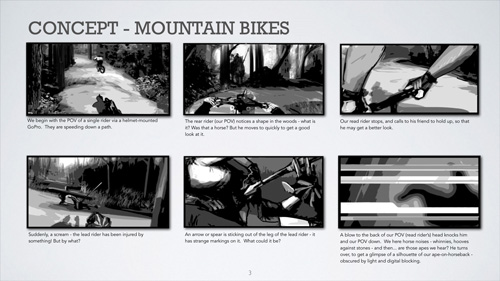 SIMIAN FLU PSA
The PSA video and site; from the perspective of a worldwide disease control group.
MOMENTS BEFORE DAWN SITE
To show the tension that exists between men and apes, their territories were juxtaposed, side by side on a split screen.
On tablets, you can motion control the scenes.